Sponsors! - press RELOAD on your browser to get the newest edition of this page - 09.07.2000 - Sponsors!
Suzuki Intruder 1500 LC Home Page
RLC NEWS PAGE
---
Would you Like to Help Maintain the RLC Page?
Are you good at HTML or good at using FrontPage? - Soon the RLC will be big enough to have it's own space on the web... and that means anyone who wants to help out... CAN. All help will be highly appreciated by all of us... and who knows, maybe it's time for a facelift? I'll leave it up to the people who are inspired enough to come forward and offer their help. If this sounds good to you, please just drop me a line and we'll take it from there. Thanks.
---
RLC NEWS
---
Hey... What do you mean: "What a carryon!"???
(30-June-2000) News Page Started & Jim JC Sends in pictures!!! (Now this is what I call NEWS!!!)
FINALLY, after a RLC News has expanded so much that half the page was a scroll down to the important stuff (our Rep List) - So, a RLC News Page is born... On here will appear all the latest stuff for you to eyeball. With a date, so you can know how recent it is.
Also, FINALLY, after a long wait, Jim JC (off the forums, remember?) has sent in pictures that make us all proud! ... and so, in his honour and his glory is born yet another page in the history of the RLC... The RLC Pictures Page - Many thanks, Jim. ("It's LIFE, Jim, but not as we know it, not as we know it, not as we know it... It's LIFE, Jim, but not as we know it, not as we know it, captain!" (StarTrekking Across the Universe - only going forward cos we can't find reverse!))
(25-June-2000) Back Again - With More Reps!
Want T-Shirts? Please contact Piper's Patches concerning this... A t-shirt was planned, but I don't know at what stage it's at. (I just got back from a fishing trip - I was mainly on motor, but did manage to get one small sized trout. The good thing is, they don't very big anyway, do they... Ok, enough fishy stories. I'm red as a tomato as I write this. Hope you're having a wild summer!) - Latest update: RLC members who have sent in pictures of them & their bikes have been added to the Community... Please add your Country and State, with a picture of yourselves... and don't be shy, remember, we're BIKERS, in case some of you forgot! - For now we welcome in: Dean Haworth in Dahlgren Virginia (now has a new eMail that works, so get in touch with him, quick), Ken Farley in Nassau New York (who has already got some contacts lined up), Brian McCollim in Apollo Pennsylvania, and Oldsmar in Florida now depends on Ken Lanigan (27June2000).
(15-June-2000) New Reps... and new owners!
"There'll always be a hony tonk somewhere", or so says a song... and the same is true of RLC reps... Some people have just joined us to join us, or, in other words, represent the club to help unite our riders in their areas... Michigan, Washington, Ohio, North Carolina, Iowa. Hey, do you live in any of these states? Well, now you know of someone trying to get something going over there... So why not hook up with 'em. You never know how good your bike looks until you've seen it in a BUNCH of 1500LCs... MAN, what a sight! Phew!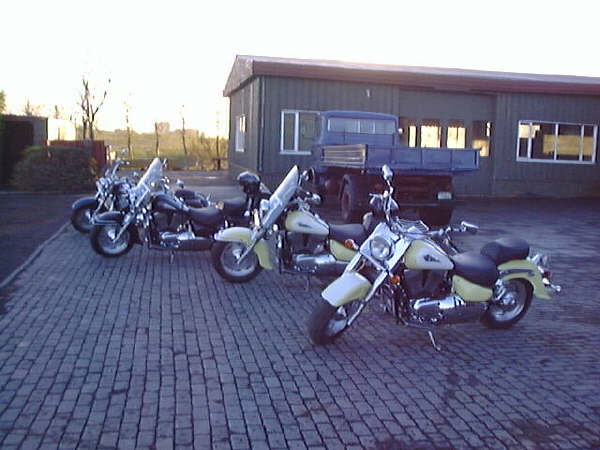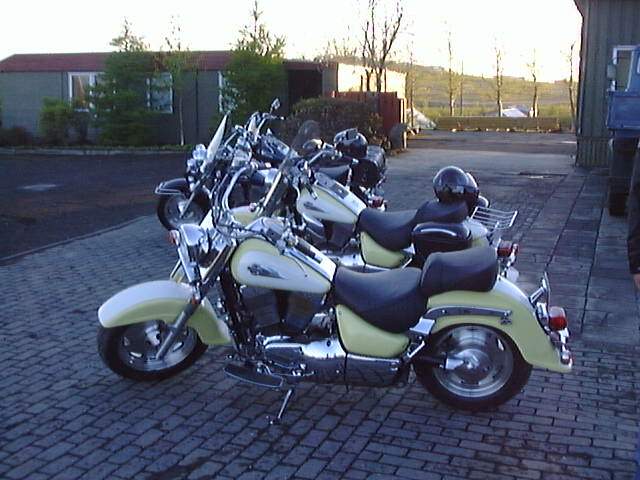 We ain't many up here in Iceland... but when we hear of a new owner, we can but rejoice and unite!!!
(15-May-2000) RLC "Members" become "Reps" and New Members... eh "Reps"
Keep your suggestions coming! Earlier this month (May) it was suggested we all be "Reps" as RLC is mainly an Owner's Club - so all owners of the LC are "members" of our club... So from now on, those joining RLC will be known as club REPS, not members. Is this confusing? 1. We're ALL members of the owner's club, right? 2. Those who come forward are representatives of the club! That's all. Now it's clear, right?
Also, please welcome in our new RLC reps in San Diego (California), Sanford - North Carolina... and two new reps from Canada - Ottawa in Ontario and we finally have Montreal, in Québec! About time!!!
(1-May-2000) RLC Community and New Members
Hey! It's not enough to be just names on a page... How about some pictures? That's what the RLC Community at MSN was set up to do... While Delphi is fine for discussions and ride organisation, we need a place to post pictures of our reps... If nothing else, then so we can recognise them! - Come on everybody! Post your pic at the RLC Community.
Also, please welcome in a Scott in Illinios, Dieter in Ontario, Stanl in Mississippi, Terry in Colorado, John in Pennsylvania, Kurt in Arizona and Chris in New Jersey... Wow... What a crowd! ... and like Stanley said, they have just joined the "finest organization in cycling" - Well, every club is what you make it... and I know we all want it to be the finest... and so it is! Its that simple! Thank you Stanley. This won't be the last time you are quoted, you can be sure!
(20-April-2000) RLC-MC Forum @delphi.com...
Alright... Something had to be done, we can't have our members hanging around until this page is updated from our guestbook. So, as this is an ever expanding club... and since the LC is so popular, we need an interactive place to call our own... Since the Delphi Forum has been so popular with our riders that'll the place!
http://www.delphi.com/RLCMC is where you'll find the LATEST club details and members... Rides being organised, ride tales, club interaction... and remember, this is an international club, so we can all find out what's going on in other parts of the world... Personally I see it expanding into a ride center, as other cruiser riders will want to ride with us and know where the rides are taking place... and please remember, although we're on a cooler bike, please don't hurt their feelings with your pride. There will always be someone with a cooler bike. That's just the law of nature. See you at the forum! RLC-MC
(19-April-2000) Sorry for the delay, due to comittments this page has not been updated till now... But WOW, what an update! Check the various areas. The new reps are in red... and there are MANY!
(19-March-2000) RLC Wyoming and New Mexico established, while RLC Florida expands!
Tallahassee, Florida is braught to us by Dave & Midge Bussy... and we also welcome in New Mexico in the shape & size of Jay Longley! Also new: Wyoming... His name is Levi Nelson... and we are reliably informed that he is THE Wyoming Mountain Man! (We'll just assume that is so, until further notice!)
(15-March-2000) RLC Gets some much needed exposure in Suzuki Motor Company, Japan.
The Icelandic Suzuki dealer is attending a dealer's meeting in Japan. He has with him RLC patches to try and get a reaction from Suzuki to the club for approval and support. Anything you can do, concerning your local dealer would help things along. (esp. if the dealer has good contacts within Suzuki). - News Update: Suzuki Motor Company in Japan now know of us... but they chose not to say anything. They are playing it legally safe... and although we don't get an immediate reaction from them, they are reputed to be slow at making any decisions... That is to say, they don't act like the net - fast and furious - They are calm and collected in their actions. Hopefully we will see something happening in the next few years... When we have proved ourselves, and when they see we are here to stay, not just a fashion trend, but a dedicated group of individuals. We can but hope. More will be posted on the RLC-MC Forum as we get it.
(13-March-2000) RLC Chicago Illinois: Manolo Gawat has just joined RLC... and would like to hear from people in the Chicago area for rides and activities... Please get in touch with him... and hey, people , if you go on some runs, how about sending in some pictures for the other RLC members to enjoy! - ((Now you can even post them yourself in the RLC Community! Check it out!))
(11-March-2000) RLC is on the move again! Wow! Each week more join us...
Ken Glover joins us, bringing the town of Devore, California, with him... We also welcome in Greg Alderman, who seems to get about a bit, as he brings in both Merritt Island, Florida, AND St. Marys, Georgia! In Miami, Florida, we now have Roger Gonzales. (Does Roger get any piece of that "Miami Vice" we are always hearing about?)
(6-March-2000) RLC Expansions in: California., Florida., Illinois
We are indeed very proud and priviledged to welcome in Francis Covington... Who is probably best known for making the first Intruder 1500 Owner's Club and fighting to get our voice heard at Suzuki, as he lives just down the road from them... and his voice was heard down there, for sure! - Also joining us from California is Rusty Herric, in Riverside. Ken Schrader from Boyton Beach in Florida and Bruce from Effingham in Illinois. (Wow... "Boyton Beach" - doesn't that name just make you wish you were there?)
(24-Feb-2000) RLC Arizona, California, all get new members!
German Devil's eMail address now has a new feature: It WORKS! Hehe. Help us welcome a third member in Phoenix, Arizona... and in California, the state where dreams are made... We have Herman Lucas representing us... Not too far from him (same state, even) in Riverside, is our bro, Jim Cantarini. ("One day I'll make it out to California... to see if it's what it seems... I've been there many times before... but only in my dreams..." (Manfred Mann's Earthband - Album: "Watch"))
(18-Feb-2000) RLC Michigan gets a new member!
Parski is his name, and he's our new RLC rep in Dundee, Michigan! Tim Beels is the RLC rep in the New Haven area. ("Michigan seems like a dream to me now..." (Simon & Garfunkel: "America")
(5-Feb-2000) RLC Indiana gets bigger!
Without flooding his eMail address, lets all welcome Matt Taylor from Kendallville to the RLC. Other RLC members in Indiana are: Dale in Cicero and Mike Brown in Elkhart. Going to Indiana? Get in touch with 'em!
(25-Jan-2000) RLC Québec, Canada!
Maurice Prevost has joined us. He's got a great LC Page going... Check it out!
(20-Jan-2000) RLC Arizona, Georgia and Louisiana - USA just got bigger!
Bill Nash joins us from Arizona, the Land of the Sun! - From Vacherie in Louisiana, we have Mike Homer... and in Georgia we got Larry uniting us in Acworth! Can't be bad!
(Jan/2000) RLC Germany Shows Promise!
"Devil" will be getting his friends and associates involved with the club.
- One thing we can all do, is pop along to our local Suzuki dealer (especially if we are going there anyway) and ask him to notify new LC owners of the RLC... Also if we see other 1500 riders, show them the patch and give a general explanation of what the club is all about. What is it about? Union, mainly... but also sharing experiences, fellowship, spreading information, friendship, even! 'That's what we're here for.' - Please help us welcome new members in by sending them a short-ish "Hi" by eMail... would be nice :-) If you didn't get one, here is more or less what it would have said.
---
(11/1999) Piper's Patches LOWERS the price of the 3½ inch patch!!!
Due to changes in who was sub-contracted to make the patches, they are now available for LESS than originally anticipated!!!
(Was supposed to cost $7 ... Now on offer at $5 each!!!! (that price includes postage within USA! What?? Yep! 5 bucks!)
- Order Form (order today!) -
Well, they are finally done! The RLC Patches are ready for you... Please check out the Patch Page.
On it you will find the Order Form which you need to send in to Piper's Patches with some form of payment (see the order form page for details).
(Click picture on the right for a half sized picture of the patch) Here is an actual magnified patch!
This patch is the 4.5" (inches) wide one.
---
Logo Matters
Our net logo... Classic design for a Classic Club.
(8/1999) Recent developments? What's been going on?
---
AllPageContent©'98-2000 icelandknight - Pictures©'Owners'98-2000
This page was hand made.