- Press RELOAD on your browser to get the latest edition of this page -
Suzuki Intruder 1500 LC Homepage
SPONSOR PAGE
---
Ever been to the Delphi Shop? Don't miss the bargains!
Wanna buy some motorcycle music?
- Motorcycle Cruiser Magazine!!! -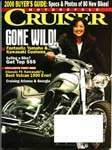 - Get Your Other Magazines Here -
---
... AND YOU THOUGHT THEY WERE UNAVAILABLE!!!
Yep, I was as amazed as you probably are... After rumours that the Star Wars Posters would not be on offer ANYWHERE because of some strict hold Lucas Arts had on the rights (they were even going to COUNT the posters before sending them to cinemas)... It gives me great pleasure to reveal to you that the Star Wars Posters ARE available, after all:
MORE POSTERS (Themed)
---
Need a motorcycle manual?

---
WANT A GOOD "DEAL" HOW ABOUT THESE?
XOOM DEALS
- COMPUTER DEALS -
- COMPUTER HARWARE -
- VIDEO CAMERA -
- BEAUTY & HEALTH -
- THIS WEEK'S XOOM DEALS -
- GIFTS -
- SELF IMPROVEMENT -
- WEBSITE GRAPHICS & TOOLS -
- STATIC IMAGE 3D WEB ANIMATION GRAPHICS -
- WEBSITE WEMPLATES -
- FAX MODEMS -
---
Get your other magazines here... TONS to choose from
---
EXPLANATION: Service without reward is punishment - They who dance must pay the fiddler, etc.
Everyone has to get paid sometime for all the stuff they do, right? As you may or may not know, Suzuki, which would have been the MOST appropriate source for sponsorship of these pages, has so far chosen not to answer any of our communications attempts with them. So we must turn to other, friendlier, sources.
Yes I'm disappointed that the manufacturer of the Suzuki Intruder 1500 LC, to which these pages are dedicated, has decided to enjoy the benefits of the exposure and the goodwill of the owners of this motorcycle, without supporting our cause in any way shape or form... One can only guess that Suzuki feel the fact that they are NOT taking us to court concerning not having allowed us use of their trade mark, logo, etc. is support enough... but as they have not answered any communication on the subject, and as we are getting the "silent treatment", they can't object either... The truth is, of course, if they would object, they'd be shooting themselves in the foot... and they know it.(*see footnote)
Anyway, coming back to the matter at hand: All the work on the Suzuki Intruder 1500 LC Pages has been an unsupported labour of love... but we all got to eat and have bills to pay, right? ... and we could use the time that gets spent on updating the pages, out working for someone else and getting paid, right? Well, hence the SPONSOR PAGES...
I hope that you appreciate that rather than filling the Suzuki Intruder 1500 LC Home Pages with all kinds of banners and ads that would slow the page loading process down... They have, instead, all been put on our SPONSOR Page. Anyway, please consider any of the products and services on the following pages. There are some hard to find deals among them... and you are also supporting a good cause. Our page!!!
Your bro,
Thor
---
* Footnote: ... I would just like to add that meanwhile, I have been paid for work on other web pages dedicated to other motorcycles ...and unethical as it seems, those funds have been directly paying for the upkeep of the Suzuki Intruder 1500 LC Homepage!!! One source has been, of all brands:
Harley Davidson!
Talk about a conflict of interest!!!... and I must say, it was hard as hell for me to resist the compelling arguments put forward by Harley Davidson Iceland for getting a Harley (which I might yet do. - I'm young(ish). I've got time!). Respect to Harley Davidson! - They are coming through for us, where Suzuki Motor Company "International" haven't. It's a weird situation to be in. I admit!
Harley Davidson is, after all, the business. A rock'n'roll icon. The American Dream Machine. A status symbol, sound investment, has a price curve unlike anything else on the market, etc... Its the brand that comes up in people's minds when talking about 'motorcycles'. It has, however, become somewhat of a cliché, is 'slightly' over rated and when combined with the 'anti-Jap' propoganda that has been going on through the years, has unfortunately been turning biker against biker through the years. I'm not buying into that.
If you think about it, in real terms, it's all a question of marketting - and what the general public is ready to accept as a standard. Although it hasn't done Harley Davidson any harm through the years, they don't really object to the anti-Jap propoganda... No more than Suzuki is objecting to the presence of the Suzuki Intruder 1500 LC Homepage. So are they also guilty by complicity? Hmmmm.
---