Sponsors! - press RELOAD on your browser to get the newest edition of this page - 07 jan. 2004 - Sponsors!
RLC PATCH PAGE
---
Riders of the Legendary Classic MC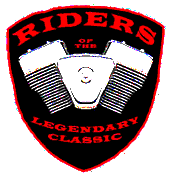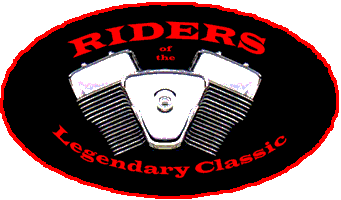 ---
(11/1999) Piper's Patches LOWERS the price of the 3½ inch patch!!!
Due to changes in who was sub-contracted to make the patches, they are now available for LESS than originally anticipated!!!
(Was supposed to cost $7 ... Now on offer at $5 each!!!! (that price includes postage within USA! What?? Yep! 5 bucks!)
- Order Form -
Well, they are finally done! The RLC Patches are ready for you... Please check out the Patch Page.
On it you will find the Order Form which you need to send in to Piper's Patches with some form of payment (see the order form page for details).
(Click picture on the right for a half sized picture of the patch) Here is an actual magnified patch!
This patch is the 4.5" (inches) wide one.

Click it!
It's a scan of an actual patch!
---
AllPageContent©'98-2000 icelandknight - Pictures©'Owners'98-2004
This web page was originally hand made...